Millions of people around the world desire well-paying jobs so that they can live comfortable lives. In more developed countries, getting jobs is relatively easy. But in many African countries, unemployment remains high, especially among the youth.
READ MORE: South Africa: Dreams Talks With Michelle Mathews, Director at Viridian
Young people aged 15-24, and 25-34, recorded the highest unemployment rates of 64.4% and 42.9% respectively, according to the data from StatsSA.
Sustained economic disruption from Covid-19, austerity measures, persistent inequality, and poor government policies have all been cited as contributors to the weak numbers. South Africa's inflows of foreign investment, a key enabler in employment prospects, also declined by 39% to $3.1 billion in 2020.
Discussing more about South Africa´s rising unemployment numbers, Dreams Talks sat with Tshiamo Dichabe, the Executive Director at Afrika Leadership Development Institute "LeadAfrika" – to fully understand how things stand today and why the country has found itself in such situation.
Enjoy!
READ MORE: Dreams Talks Meets Dr. George AMEH, WHO Representative to Equatorial Guinea
Dream Talks: A group of young entrepreneurs in South Africa have stressed that the latest unemployment statistics for the country "suggests a lack of effective policy interventions" on the part of government. Why has it been so difficult to create jobs for South Africans?
Tshiamo Dichabe: Now, you know, the legacy of apartheid still lives with us in South Africa right now. You know, when you find that the majority of the land that is owned in South Africa is owned by predominantly by those who benefited directly from apartheid. But I still believe that we have a chance to oppose, you know, and re-structure this whole apartheid economic architecture that we are currently experiencing and looking at what I normally call the Ubuntu economic architecture, where there's an inclusive approach towards economic development. Unfortunately, the current policies are only benefiting those who have benefited already from apartheid. And our Constitution unfortunately protects them.
Dream Talks: How has the Legacy of apartheid and education and training affected the unemployment rate in South Africa?
Tshiamo Dichabe: I mean, South Africa right now is regarded as one of the most unequal societies in the world. And it's visible when you walk across the country, when you drive across the streets of South Africa. There's a clear line of the rich getting richer and the poor getting poorer. And until we deal with the systematic approach that apartheid implied or applied to entrench what the system wanted to do and which is still living today, then we'll not be able to achieve anything in terms of even the unemployment rates, in terms of job creation or the creation of better work opportunities for our people.
Dream Talks: How badly did the covid 19 pandemic really affect unemployment in South Africa? And is the country still suffering the effects of the pandemic?
Tshiamo Dichabe: Definitely. You know that during the previous administration you could see a good growth in terms of the SME sector. But as soon as that new administration came in and as this pandemic took hold, it really crushed the SME sector. And we had to obviously lose a large number of workforce in that sector. And obviously, small businesses could no longer survive during the lockdowns, could no longer survive to ensure that they keep their employees and assets, you know the devastating effect right now is that the majority of the SME's that were growing have now collapsed completely and are struggling to resuscitate and come back to life.
READ MORE: Equatorial Guinea: Dreams Talks Clocks One Year
Dream Talks: How do you rate the enthusiasm towards entrepreneurship in South Africa, and could this be a problem towards such low unemployment in the country?
Tshiamo Dichabe: My brother, to be honest with you, the enthusiasm is very low, you know, because the young people have actually lost hope. Whether it's through the system itself or whether it's through the pandemic, or whether it's through the administration that is currently presiding over us. But young people have really lost hope. And we, as the African Leadership Development Institute, through our partnership in the Local Government Youth Development Forum, which we initiated to resuscitate young entrepreneurs and support entrepreneurship, development and enterprise development, have really been working very hard to engage with young people in exposing them to new opportunities that this new era, I want to call it, that we present, you know, the fourth industrial revolution that can present many opportunities for young people.
Yes, we are talking about Eskom. I know. I'm sure you are aware that South Africa is facing a lot of energy cuts and loadshedding. Yeah. And that has also affected business extremely. But we understand that there are other opportunities that young people can go into, especially looking at, for example, the agricultural sector where we put mainstream young people into agro processing production and ensuring the security of our food systems and basically put security in their lives. But when you look at also the infrastructure that is required, you know, to get South Africa to be able to present itself as a viable investment country, you know, there's a lot of opportunities that young people can get involved in terms of the construction sector and then also the energy sector.
But, you know, we must not shy away from telling the truth in terms of that renewable energy is not the answer. We do have coal plants. Eskom still has support in terms of the infrastructure that is there. We do have large coal reserves. Yes, we understand the effects of climate change but do not shy away from the fact that we still have energy sources that we can use effectively to make sure that the economy runs smoothly.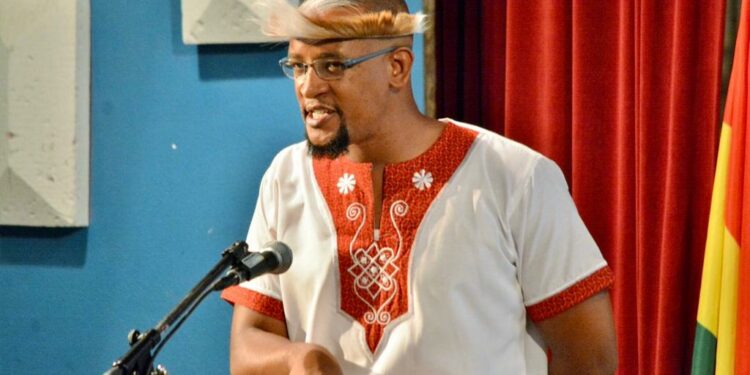 Dream Talks: Is Gig work and freelancing in South Africa considered as an employment?
Tshiamo Dichabe: You know at this point, I would not really consider it that way, because when you look at it in terms of the economic infrastructure of the country, freelancing and gig work, as you put it, will definitely need to be procured from the private sector, mainly because the private sector can really create that opportunity or the platform for freelancing and gig work.
But the private sector somehow seems to be shying away from freelancing from young aspiring entrepreneurs and experts, young experts that are growing into the sector, but rather giving the business back to the owners of business, if I may put it that way. So there aren't a lot of opportunities for freelancing and gig work to be done in South Africa because the majority of the companies that are currently creating those opportunities are not creating those opportunities for young black South Africans or their previously disadvantaged South Africans. So that is something that we need to look into.
What they have done, they've started a support program in the presidency. They call the program Youth Employment Support Program. But what we are talking about and what we are advocating for is that young people in South Africa do not want jobs, really. They want to create work opportunities for themselves. And as such, what we are encouraging for job seekers to become job creators. And through this freelancing and gig work, we'd be able to create that platform. But the system as it is right now, is not conducive for such an environment.
READ MORE: Dreams Talks: Outgoing US Ambassador to Equatorial Guinea Looks Back at her time in the Country
Dream Talks: A recent report by World Inequality Lab, and cited by Bloomberg in its analysis, noted that "the top 1% richest South Africans own more than 55% of wealth" while "the poorest 90% only own 14%." Frustrations have been building as a result. Isn't this another case of Static capitalism, where the rich always get richer and the poor maintain the status quo?
Tshiamo Dichabe: That. That is exactly the situation unfortunately we are facing in South Africa. And like I said, this is a system that is put in place. The system did not change. The system is still the same. The system was not changed by us getting independence, if I may put it that way, or apartheid being abolished, if I may put it that way. The system still exists and is still predominantly white and is still predominantly controlled by the same people that controlled the system during apartheid.
Dream Talks: Well, thank you for joining us today Mr Dichabe, We are grateful. 
Tshiamo Dichabe: And I'm thankful for this opportunity to have a discussion with you!