By Metohuey Adoglo  
In the dynamic realm of African agriculture, a compelling query emerges: Can the integration of robotics, automation, and locally rooted solutions bring about a revolutionary transformation? This contemplative exploration delves into the potential of intertwining cutting-edge technology with indigenous wisdom, all while addressing the pivotal concern of food security across the continent.
Read More: Catalytic Africa – Fueling Innovation and Growth for African Startups
Amid the diverse tapestry of local contexts, the shift towards tailored solutions gains prominence. Recognizing that uniform approaches may miss the mark, communities are embracing innovative practices that resonate with their unique needs. These community-sourced solutions, enriched with generations of insights, not only align with diverse agro-ecological conditions but also resonate deeply within the fabric of the societies they serve.
Simultaneously, the surge of robotics and automation casts a captivating spotlight. Robotics are stepping onto African farms, automating tasks that previously demanded significant human labor. From precise planting to harvesting and even intricate soil analysis, these technological strides are streamlining processes and driving productivity to unprecedented heights.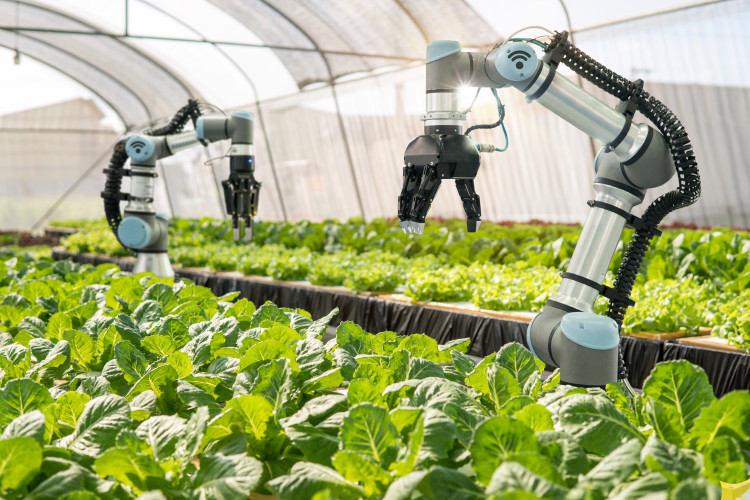 Read More: Dreams Talks – Serving as a Compass to Navigate Africa's Food Space –Buffy Okeke-Ojiudu
At the helm of this transformative journey stands E.A.T Africa, helmed by visionary Buffy Okeke-Ojiudu. The organization's unyielding dedication to innovation has cultivated a vibrant platform for agricultural discourse and actionable change. Its commitment to pragmatic, community-driven solutions underscores the potency of grassroots initiatives in sparking transformation.
However, challenges and benefits paint a complex picture. As Okeke-Ojiudu aptly states, "The challenge is trying to influence mindsets… try to influence the drivers or the supporters of this space i.e. the development bodies, the investment companies, or possibly sometimes even the policymakers."
The path forward involves both the assimilation of technology within locally adaptable solutions and the benefits of increased efficiency, yield, and sustainability.
Read More: Virtual Labs and Hands-On Learning Simulations in Africa
As we stand at the crossroads of Africa's agricultural evolution, the question resonates: Can the fusion of technology, automation, and age-old wisdom yield a harvest of transformation? Delving into the intricate tapestry of benefits and challenges, we navigate the potential of an agriculturally empowered Africa, led by innovation hubs, robotics, automation, and organizations like E.A.T Africa. 
Our Story So Far. Your Dreams Matter, Your Stories Matter #DreamsTalks #AfricantechSpace pic.twitter.com/seZElwurGq

— Africanian News (@africaniannews) July 3, 2023