Calling all young African leaders!
This program is specifically designed for young African innovators and leaders who are passionate about making a difference in the convergence of climate action and technology.
Read More: Dreams Talks: Connecting Cameroonian and African Ecosystems
If you are between 18 and 35 years old, fluent in English, and hail from any of the following countries: Angola, Benin, Botswana, Burkina Faso, Burundi, Cameroon, Cape Verde, Central Africa, Central African Republic, Chad, Comoros, Democratic Republic of Congo (Kinshasa), Djibouti, Equatorial Guinea, Eritrea, Ethiopia, Gabon, Ghana, Guinea Bissau, Ivory Coast, Kenya, Kingdom of Eswatini, Lesotho, Liberia, Madagascar, Malawi, Mali, Mauritania, Mauritius, Mozambique, Namibia, Niger, Nigeria, Republic of Congo, Republic of Guinea, Rwanda, Sao Tome Et Principe, Senegal, Seychelles, Sierra Leone, Somalia, South Africa, South Sudan, Sudan, Tanzania, The Gambia, The Republic of Congo (Brazzaville), Togo, Uganda, Zambia, or Zimbabwe, then this is your chance!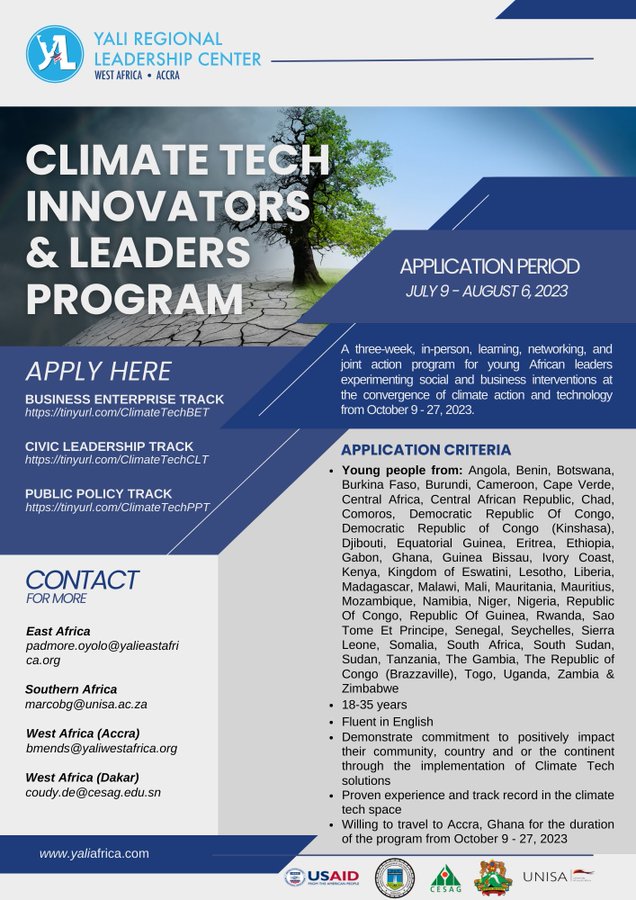 They are seeking individuals who have demonstrated a commitment to positively impact their community, country, and the continent through the implementation of climate tech solutions. If you have a proven track record in the climate tech space and are willing to travel to Accra, Ghana, from October 9 to 27, 2023, we encourage you to apply.
Read More: Unveiling Africa's Cultural Education Revolution with AR and VR
Don't miss out on this incredible opportunity to expand your knowledge, network with like-minded individuals, and take collaborative action for a sustainable future. Apply now and be part of this transformative program!
The Application has three categories, apply to the category that relates to what you do on the links in blue below
Our Story So Far. Your Dreams Matter, Your Stories Matter #DreamsTalks #AfricantechSpace pic.twitter.com/seZElwurGq

— Africanian News (@africaniannews) July 3, 2023