By Olivier Noudjalbaye Dedingar, Expert-consultant, Humanitarian and Freelance Journalsit.
Pope Francis embarks on a journey to two frequently overlooked African nations, plagued by prolonged conflicts that have left millions struggling with hunger as refugees or displaced persons.
From Jan. 31 to Feb 5, he visited the Democratic Republic of Congo (DRC) and South Sudan, where the Catholic Church plays a crucial role in healthcare and education and in shaping their democratic systems, as Catholics make up approximately half of the population.
READ MORE: DRC Congo: Pope Francis Meets Thousands of Youths in Kinshasa
Initially slated for July, the trip was postponed due to Pope Francis' flare-up of a chronic knee condition. Although he still uses a cane and wheelchair, his knee has greatly improved.
Despite being rich in natural resources, both nations are burdened by poverty and unrest, with the DRC abundant in minerals and South Sudan in oil.
Pope Francis' visit to the Democratic Republic of Congo (DRC), Africa's second-largest country with a population of 90 million, marked the first papal visit since John Paul II's in 1985 (when DRC was known as Zaire). The Pope had intended to visit the eastern city of Goma, but the plan was cancelled due to ongoing conflict between the army and the M23 rebel group in the area. Instead, Pope Francis met with victims of violence in the capital, Kinshasa.
The Vatican's ambassador to DRC, Archbishop Ettore Balestrero, described Congo as "a moral emergency that cannot be ignored".
With 26 million people facing severe hunger, according to the U.N. World Food Programme, the country's 45 million-strong Catholic Church has a tradition of advocating for democracy. As Pope Francis arrived, the Church prepares to observe the December 2023 elections. Britain's ambassador to the Vatican, Christ Trott, who has extensive diplomatic experience in Africa, expressed hope that the visit will reinforce the Church's support for the electoral process.
READ MORE: Kinshasa: Pope Francis Travels to Congo With a Devout Wish for Peace in the Region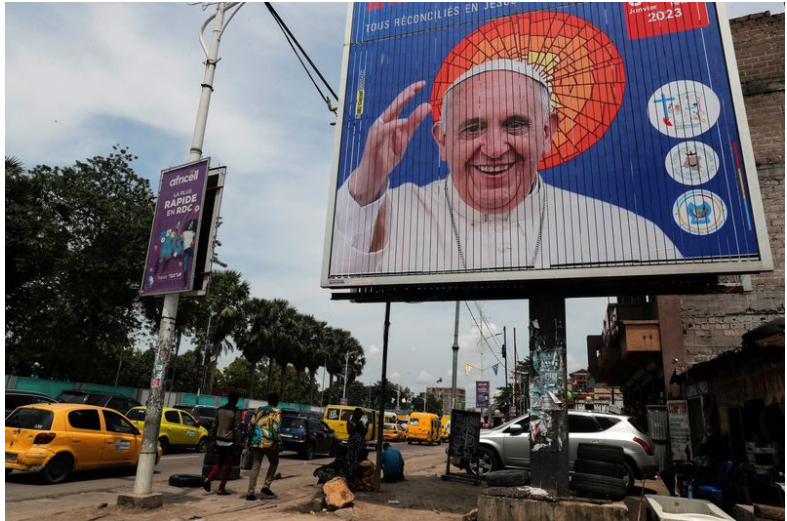 The papal trip took on a historic turn on Friday when Pope Francis departed Kinshasa for Juba, the capital of South Sudan, accompanied by the Archbishop of Canterbury, Justin Welby, and the Moderator of the General Assembly of the Church of Scotland, Iain Greenshields.
READ MORE: South Sudan: Head of the Catholic Pope Francis set for a Visit to Juba
In his Sunday address to tens of thousands of people in St. Peter's Square, Pope Francis said, "Together, as brothers, we will embark on an ecumenical journey of peace." The three Churches embody the Christian composition of the world's newest country, which gained independence from predominantly Muslim Sudan in 2011 and has a population of approximately 11 million.
"This will be a historic visit," Welby said. "After centuries of division, leaders of three different parts of (Christianity) are coming together in an unprecedented way."
Two years after independence, conflict erupted between forces loyal to President Salva Kiir and Vice President Riek Machar from a different ethnic group, resulting in a civil war that claimed 400,000 lives.
A 2018 deal ended the worst fighting, but key elements, such as a reunified army, remain unfulfilled. The UN estimates 2.2 million are internally displaced and 2.3 million are refugees in South Sudan. The Catholic Church is highly regarded by the UN as a key force in promoting peace and reconciliation in conflict-torn regions.
Pope Francis, in one of his most notable acts since his 2013 papacy, knelt to kiss the feet of South Sudan's warring leaders during a Vatican retreat in 2019 and urged them to avoid another civil war.
The former Ambassador to South Sudan, Trott, hopes the three Churchmen can encourage political leaders to fulfil the independence movement's promise.
The views and opinions expressed in this article are those of the author's and do not necessarily reflect those of Africanian News.