In an attempt to continue providing support, platforms and creating structures for entrepreneurs, Dreams Hub Research and Innovation Center, Malabo, Equatorial Guinea, has launched a new initiative labeled, Pitch Your Dreams.
READ MORE: The Vital Role of Social Networking Services for Tech Startups and Business Incubators
Pitch your Dreams will serve as a way for entrepreneurs to participate in a contest in which the finalists, having gone through an evaluation phase, will have the opportunity to present their ideas and startups before a mixed jury of national and international experts, for a chance to win.
The initiative aims to identify and support the best ideas and startups and further boost the ecosystem.
From August 4, potential applicants can submit their 'pitch decks' or presentations and have until August 31, 2023 to do so. The pitch event will take place in September, 2023.
To qualify, the ideas or startups must be innovative, have a component of technology, the potential to scale and must factor in some of the 17 Sustainable Development Goals.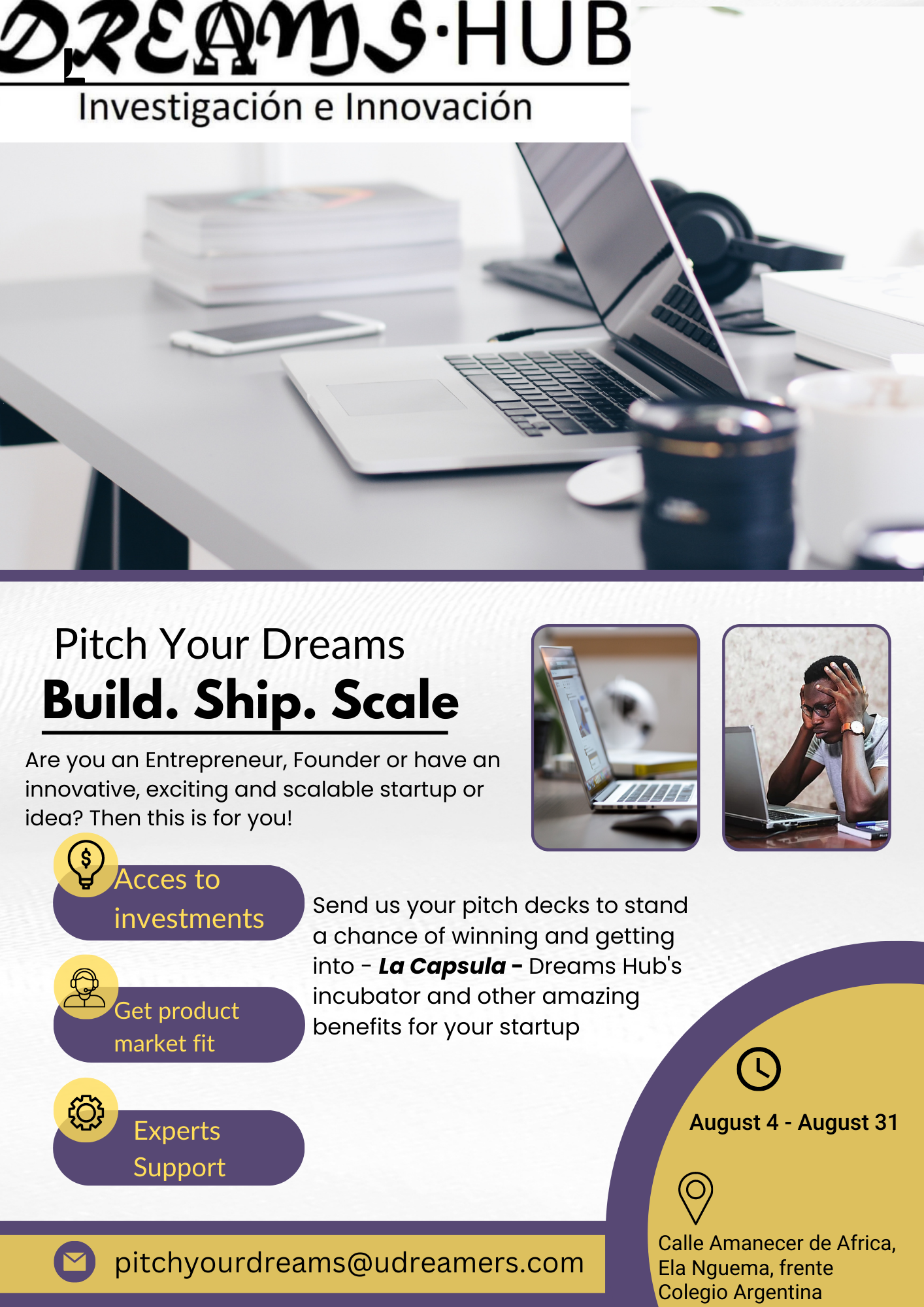 The initiative aims to bridge the gap on some of the challenges entrepreneurs face and take charge of creating valuable businesses, instilling a culture of entrepreneurship and sustainability.
READ MORE: Equatorial Guinea: Dreams Fellowship was "Enriching" – GreenLives Founder, Anabel Siale
Interested persons are encouraged to ignite their creativity and prepare a 'Pitch Deck' (presentation) of their Idea or Startup, and submit their application before August 31, 2023.
In addition, the winners will be admitted into Dreams Hub's Dreams Fellowship program; An exchange program where young entrepreneurs from the Equatorial Guinea ecosystem visit other ecosystems with the aim of being exposed in the international framework, create synergies, executive trainings, and form strategic alliances for the development, implementation and sustainability of their startups through the AfriLabs members network, the largest organization supporting innovation in Africa, present in 52 of the 54 African countries.
Remember, to participate in 'Pitch your Dreams', interested persons must send their presentations or 'Pitch Decks' to [email protected] from August 4 and the deadline is August 31, 2023.
Good Luck!