Marrakech, Morocco, June 2, 2023 – The United States Department of State's Office of Global Partnerships (E/GP) and AfriLabs have recently signed a Memorandum of Understanding (MOU) at the esteemed GITEX Africa event in Marrakech, solidifying their commitment to address the pressing climate crisis while fostering entrepreneurship in Africa.
Read More: Caught in the Web –Addressing Internet Addiction in Africa
Dorothy McAuliffe, Special Representative from the Office of Global Partnerships, expressed her enthusiasm for the collaboration with AfriLabs, emphasizing the importance of building robust 21st-century U.S.-Africa public-private partnerships.
The primary focus of this dynamic partnership will be to support the Coalition for Climate Entrepreneurs (CCE) initiative, which is dedicated to nurturing startups and entrepreneurs who are spearheading climate solutions in developing nations.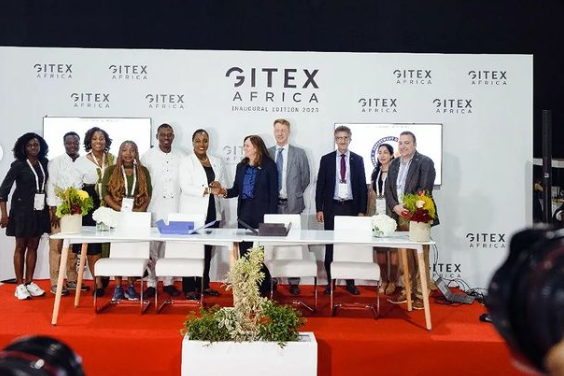 "We are excited to join forces with the U.S. Department of State in our shared mission to empower entrepreneurs and drive sustainable change," stated Anna Ekeledo, Executive Director of AfriLabs. She added that the partnership would create unprecedented opportunities for climate-focused startups across Africa to access vital expertise, capital, and global markets.
The MOU outlines various collaborative programs between the U.S. Department of State and AfriLabs, including the U.S. Climate Ops and Partnership Opportunity Delegations (PODs). These initiatives are designed to connect climate entrepreneurs with essential resources and targeted opportunities. Additionally, the International Visitor Leadership Program (IVLP) and BridgeUSA will offer support to promising climate entrepreneurs.
Read More: Dreams Talks – Connecting Cameroonian and African Ecosystems
The partnership will center on four pillars: engagement, expertise, capital, and deployment. By promoting cooperation, providing essential skills and knowledge, attracting crucial investments, and implementing effective climate solutions, the partnership aims to make a significant impact in combating the climate crisis.
About the U.S. Department of State:
The U.S. Department of State is the leading foreign affairs agency of the United States government, dedicated to shaping a peaceful and prosperous world. The Office of Global Partnerships fosters public-private collaborations to address global challenges and promote sustainable development.
About AfriLabs:
Established in 2011, AfriLabs is a driving force behind innovation hubs across Africa, fostering growth through a community-focused model. By building capacity, providing capital, networking, and advocating for policy changes, AfriLabs empowers highly-promising innovators and entrepreneurs within its member hubs' communities, contributing to economic and social growth. In addition to cultivating a robust community around these rapidly emerging innovation hubs, the organization also facilitates connections with other stakeholders in the broader ecosystem, thereby enhancing the quality of their interventions and promoting a thriving African innovation economy.
Our Story So Far. Your Dreams Matter, Your Stories Matter #DreamsTalks #AfricantechSpace pic.twitter.com/seZElwurGq

— Africanian News (@africaniannews) July 3, 2023