South Africa's leftwing opposition launched strikes and rallies under heavy security on Monday (Mar. 20) in a bid to force out President Cyril Ramaphosa over his handling of the country's  economy and crippling energy crisis.
Read More: Frecnh Journalist Olivier Dubois, Free After 2 Years as a Jihadist Hostage
Several thousand protesters gathered at a square in the capital Pretoria preparing to march to the Union Buildings, the seat of government, where police and troops were on patrol. Thousands of others gathered in other parts of the country, according to footage on local media.
The Economic Freedom Fighters (EFF), the country's third-largest party, has called for a "national shutdown" of walkouts and protests, sparking fears of a repeat of unrest that turned deadly two years ago.
In Pretoria's Church Square, a huge poster made from white fabric, with "Ramaphosa must go" written in red paint, was tied to a fence. Trade unionist Trevor Shaku was among the protesters calling on the ANC government to go.
The authorities said they were on high alert to maintain security, with nearly 3,500 troops available to assist police. He added that private security companies were also helping police. Most shops across the country protectively pulled their shutters down, and one Pretoria auto dealership had removed all vehicles from its display.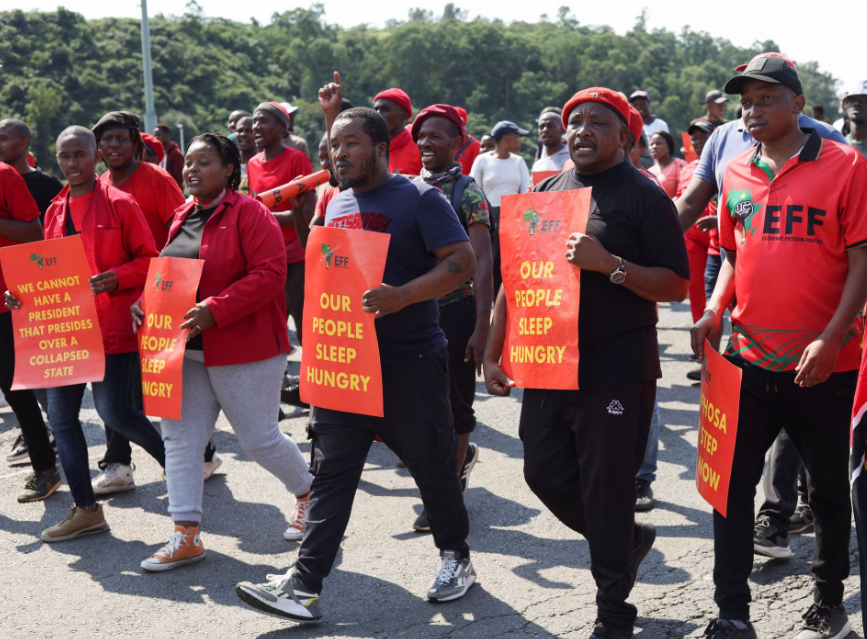 At least 350 people were killed when protests sparked by the jailing of ex-president Jacob Zuma spiralled into riots and looting. Ramaphosa ordered law enforcement agencies to prevent any repeat of the unrest and warned against coercion.
Read More: The World Bank Strengthens its Support to the Education Sector in Morocco
People have the freedom to demonstrate, but "no-one should be forced, threatened or intimidated into joining that protest," Ramaphosa said on Monday in his weekly newsletter. The EFF has told protesters their actions "must be militant and radical" but to behave peacefully and watch out for provocateurs. It accuses the authorities of risking excessive force and intimidation by deploying the army.