The U.S. has been pushing for creditors, including China, to ease the country's estimated $17.3 billion foreign debt. Zambia defaulted in 2020 amid the Covid pandemic.
"We will continue to advocate for the speedy completion of Zambia's debt treatment and restructuring," Harris said at a press conference after a meeting with Zambian President Hakainde Hichilema in Lusaka.
Read More: Oil Tanker Sailors Taken Hostage by Pirates in the Gulf of Guinea
"The international community must help countries like Zambia get back on their feet. So I will reiterate the call that I have made many times to all bilateral creditors to make significant debt reduction.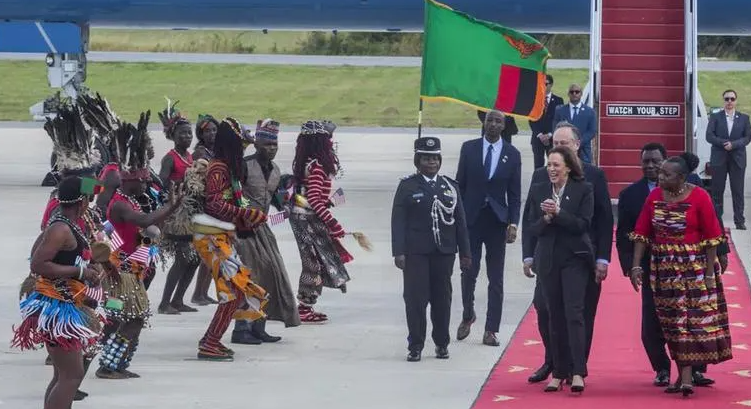 Ms. Harris' visit comes a few months after that of U.S. Treasury Secretary Janet Yellen. The US is seeking to assert its presence on the resource-rich continent in the face of Chinese investment.
The U.S. has accused China, the largest creditor of many African countries, of dragging its feet since Lusaka requested assistance under a G20 mechanism for restructuring the debt of the poorest states.
"Our priority as a country is to rebuild our economy. What is holding us back is debt," Hichilema said.
Read More: Ghananian Central Bank Warns Public Against Abuse Cedi Notes
Kamala Harris, the first woman and first person of color elected to the U.S. vice presidency, arrived in Lusaka Friday after visiting Tanzania and Ghana. She had already visited Zambia in her youth to visit her maternal grandfather who worked there.
In Lusaka, she stopped briefly at the place where he lived in the 1960s. "My grandfather was one of my favorite people," the oldest of her grandchildren told reporters.