"Inspired by Your Community" is the very essence of UBUNTU — Connectivity, Selflessness, Belief and Hardwork. This is the mantra which Nekesa Were lives by. An ecosystem builder, Nekesa is the current Director of Community at Medic; working on scaling the positive health impact achieved with the Community Health Toolkit. 
Her name literally translates to a great harvest, projecting her belief that "challenges" present the biggest "opportunities" that can help elevate the continent. Nekesa is dedicated to building and supporting communities to develop and deploy innovative solutions that transform societies, protect dignity and impact economies positively. 
On this edition of Dreams Talks, Nekesa takes us through her journey to fostering relationships between digital health organisations and contributing to the Community health and much more
Read More: Dreams Talks On The Importance And Efficacy Of Emotional Intelligence — Mensah Houinsou
Dreams Talks: What inspired you to take this path ?
Nekesa Were: Well, I was inspired by the people that I saw working in the tech and innovation space. I was intrigued by the process of innovation. Just the thought that someone could move from an idea into an actual finished product that I could see and use excited me. And so I immersed myself and eventually found a niche and work that needed to be done, and that was that. 
Dreams Talks: The Work Before the Harvest — A Conversation with Nekesa Were@nekesa @medichttps://t.co/91PStnWT9q#DreamsTalks #DigitalEconomy #Afrotech pic.twitter.com/Srg6MXb5hQ

— Africanian News (@africaniannews) March 18, 2023
Dreams Talks: As Director of Community at Medics, what are your primary objectives towards its growth?
Nekesa Were: My role and objective as the Director of Community at Medic is quite broad. Our objective is, first of all, identifying people or organizations that we would want to be in our community. And what this means is that we're looking for curious people, innovative people, focused people, detailed people, doers and thinkers, different kinds of personalities and organizations just to make it an eclectic community. 
So we identify these kinds of people and organizations and we invite them to join our community of practice. We then have to convene and create the right spaces because it's one thing to have all these incredible people and organizations, but how are we working together? What are we saying when we're together? So what kinds of activities or events or conversations do people and organizations want? It is another priority for us. know what matters to them and how we can make these convenings work for them. 
Third is collaborating and so you have all these incredible people and organizations in the room, how do you take advantage of that and how do you play to everyone's strengths and ensure that you're able to build incredible things together.  Finally is caring. We spend time listening to these people in the community and also identifying how we can support them. 
Dreams Talks: The Work Before the Harvest — A Conversation with Nekesa Were
Q: Objectives @nekesa @medichttps://t.co/91PStnWT9q#DreamsTalks #DigitalEconomy #Afrotech pic.twitter.com/mtyxGcOZx0

— Africanian News (@africaniannews) March 18, 2023
Dreams Talks: How do you compare your previous post as Director of Strategy at Afrilabs and the Director of Community at Medics, would you say your current position offers you a greater chance at positively impacting health care in Africa?
Nekesa Were: Absolutely. I obviously enjoyed my time at Afrilabs. I had always sought the means to impact the community beyond just one country, and so moving to Afrilabs was an incredible opportunity to have that bird's eye view of an entire continent. I can imagine that not very many people have that kind of opportunity to have this Pan-African view of technology and innovation. That was a really incredible opportunity that, opened up a lot of doors for me, gave me a lot of experience and also grounded me in the fact that Africa is such a diverse continent. At Afrilabs we were focused on ensuring that this diversity meant something that we we are now able to push towards inclusion, that we were able to think about Africa as a continent, but then also its different regions, also its different countries, also its different communities, Afrilabs was incredible in that regard.
Now moving to Medic, I mean, it's a whole other ball game for me.
First of all, it opens up for me more than just Africa because the Medic team is spread across the globe. A lot of our work is in Africa and Asia. I came into Medic with the African experience, and Medic now introduces me to an Asian experience as well as a workforce that is spread across the globe.
Medic designs, deploys and supports open source software that supports community health workers to deliver timely, quality, equitable care. I am now able to focus on a particular product, which is something that I saw a lot of the innovators that I supported doing and I'm able to carry with me the lessons working with them and the lessons that I learned from them and bring those into being the director of community for our product. 
I'm also able to marry these different ecosystems. I've got  colleagues working in the US, UK, New Zealand, Canada, Nepal, Uganda, Senegal, Mali and many other places. We are a globally dispersed team. That collective experience from myself and from my colleagues and considering that Africa's development continues to be a passion for me, I think really positions me very well to plow back or to contribute back to the continent with lessons learnt from this new role.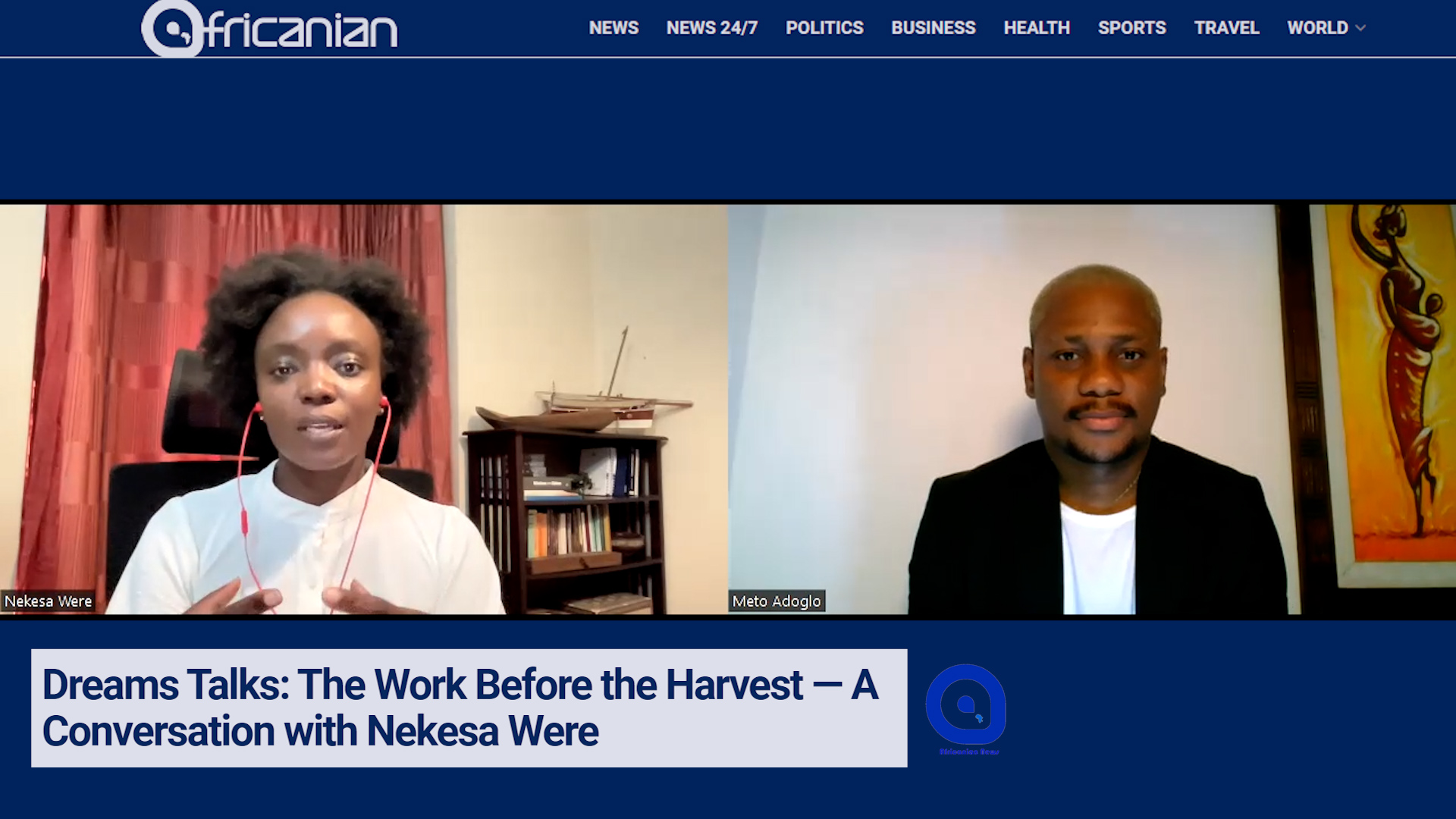 Dreams Talks: There are a lot of opinions on the definition of who or what an ecosystem builder is –can you very briefly define your concept and your approach to ecosystem building?
Nekesa Were: For me, Ecosystem building is basically bringing all critical parts together for the benefit of a subject who might be an entrepreneur or in my current work this could even be a community health worker.
The word 'building' there brings a lot of intentionality to the process because whether we like it or not, different parts of the ecosystem exist – we have funders, entrepreneurs, community health workers, innovators, developers, universities, governments, civil society and whether we like it or not we are all linked. We are all part of a whole. It's the building that makes the ecosystem cohesive.
For me, ecosystem building is about being selfless and so you really need to remove yourself from what is important to you enough. To understand what is important for others and what you can do to support them because a thriving ecosystem is not just about taking, it's also about giving, in turn building foundations and building trust. 
Trust is really important in ecosystem building, because if you're going to be in the same room having conversations about that same thing, agreeing to work together on projects, there comes a point where you need to learn to trust people; trust in their processes and their delivery.  Finally, ecosystem building is about understanding that we are stronger together than the sum of our individual parts.
Read More: Dreams Talks On Elevating the Sudanese Ecosystem with Savannah
Dreams Talks: What are the challenges ecosystem builders face on the continent?
Nekesa Were: I think members of the community would agree there are certain general recurrent challenges for the ecosystem in Africa. One would be finding sustainable models for their important work.
Two; lack of data. As an ecosystem, there's still a lot more to do in terms of identifying the data that matters and learning how to present it in a way that other people understand our work and how they can plug in. In my time at Afrilabs, for example, this is a conversation we had a lot amongst ourselves, how do we surface data? How do we make it work for us? How do we enable it to tell our story and therefore show impact.  Data collation is still a work in progress, but requires a lot of trust within converging networks that streams through the entire ecosystem 
I think our challenge with data and the different institutions and ecosystems that are working to collect that data is that we haven't done a good enough job of sharing the vision for why that data is important, not just for us, but for the people that hold the data. You can't blame the people that hold the data because as someone who wants to use another person's data, you need to make a compelling case for why that data should be shared. You also need to make a compelling case for how you're going to use that data and how you're going to respect it. 
I've found in my personal experience that when you take time to share the why and get your 'why  it resonates with other people they become allies. It becomes a lot easier for people to release their data to you because they see how that data will work for them as individuals and will work for the ecosystem. Collectively, We need to do a much better job at making a convincing case why our innovators, our startups, our hubs, our networks should share data with each other, you know, basically for everyone's growth at different levels.
Dreams Talks: What long term positives can you highlight from ecosystem building in Africa itself?
Nekesa Were: Across the continent we see the growth of networks, we see the growth of communities. What that says to me is that we are finally solidly in this space where we understand that we are greater than the sum of our individual parts. And so if you look at Ghana Hub Network, the Iinnovation Support network, if you look at ASSEK in Kenya, growth is evident. These networks are in turn becoming champions for gender equality, something that I'm very passionate about.
Also the amplification of African innovation voices, which does a lot to boost the morale of community members. I love the fact that media organizations like "Africanian" help to highlight and intentionally tell the stories of African change makers, this is a huge success for the ecosystem. 
Read More: Dreams Talks On Growing Central Africa's Digital Economy with SING
Dreams Talks: 20 years from now, what do you expect the name "Nekesa Were" to mean to the next generation of African innovators ? 
Nekesa Were: My name means "Born During the Harvest", and growing up there was a lot of family banter drawn off my name. But I like to think that just like with a good harvest, I offer opportunity. I offer security, I offer self-reliance and that's how I would like to be remembered 20 years from now when they say the name "Nekesa Were". I want them to say she was a champion for the dignity of Africans, a passionate woman who created environments and communities, where innovators realized their potential through nurturing belief in themselves and what they are capable of.
Dreams Talks: The Work Before the Harvest — A Conversation with Nekesa Were
Q: Legacy @nekesa @medichttps://t.co/91PStnWT9q#DreamsTalks #DigitalEconomy #Afrotech pic.twitter.com/NnpxiG8yrn

— Africanian News (@africaniannews) March 18, 2023