As the vibrant city of Kigali plays host to the AfriLabs Annual General Meeting 2023, a pivotal tradition unfolds within the African innovation and technology community. From October 11th to 13th, under the theme "Accelerating Africa's Digital Economy; by the Strength of our Community," participants from diverse backgrounds convene to embark on a shared journey: electing the leaders who will steer Africa's innovation ecosystem.
Read More:  Inspiring Change Through Dreams & Heritage – Bisila Bokoko
Amidst the bustling atmosphere of innovation and collaboration, a question looms: Who will be entrusted with the responsibility of guiding AfriLabs toward a future of limitless potential? As Africa's digital transformation gains momentum, the importance of visionary leadership cannot be overstated.
Yet, the beating heart of this year's gathering lies in the AfriLabs Board Election 2023, an esteemed tradition that defines the path of AfriLabs' evolution. Each year, members of the community participate eagerly, exercising their democratic right to shape the future of AfriLabs.
AfriLabs Board Election Results:
AfriLabs Board Chair:

Moetaz Helmy: 43%, 29 votes

Rene Parker: 39%, 26 votes

Hanson Johnson: 18%, 12 votes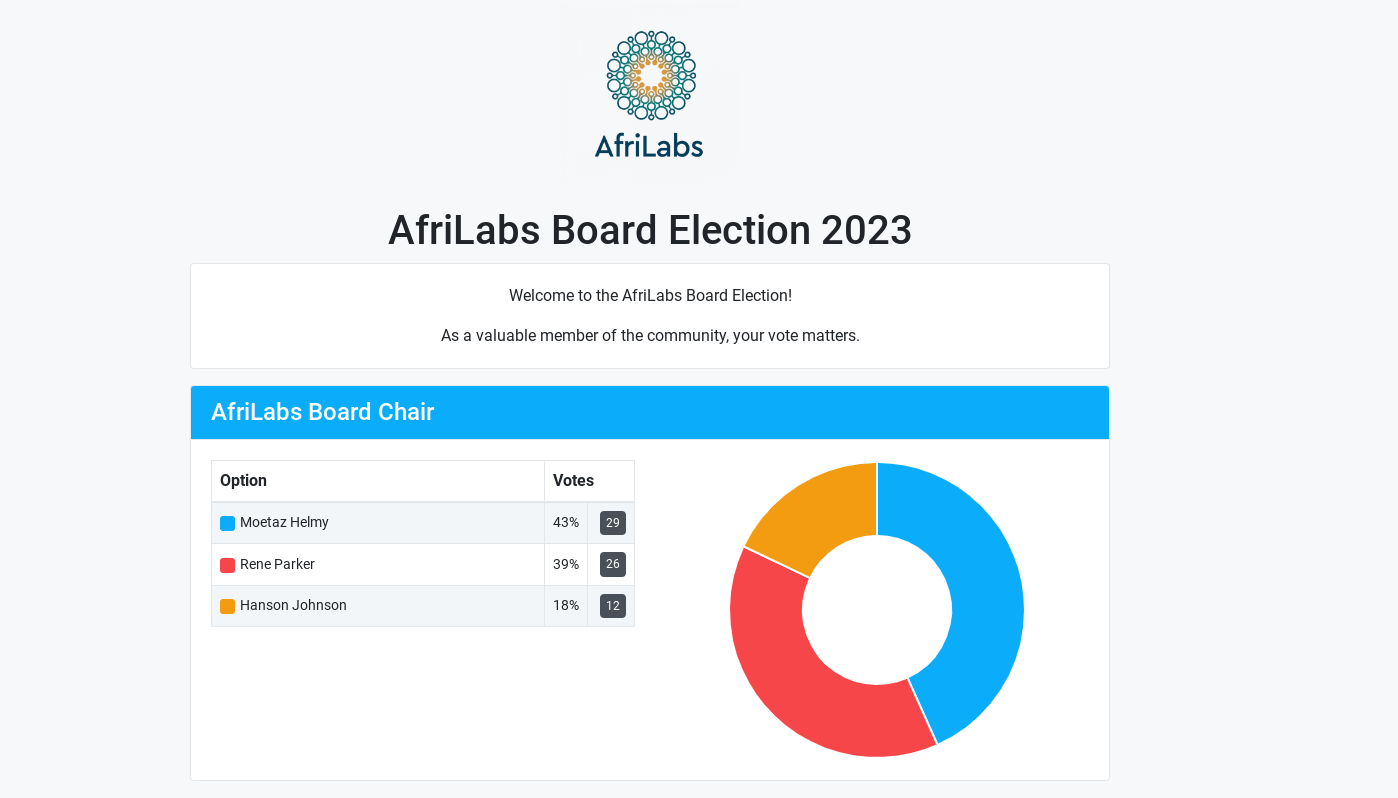 Board Secretary:

Steve Tchoumba: 81%, 54 votes

John Nnanna: 19%, 13 votes

Board Treasurer:

Jeremy Riro: 96%, 64 votes

Sheko Wellington Kaponda: 4%, 3 votes
Regional Board Members:
Eastern Africa Board Member:

David Ogiga: 43%, 29 votes
Jonas Tesfu: 33%, 22 votes
Ludovica Ochieng: 24%, 16 votes

Western Africa Board Member:

Madeline Ileleji: 63%, 42 votes
Moussa Hubert Ouologuem: 37%, 25 votes

Northern Africa Board Member:

Ahmed Bastawy: 70%, 47 votes
Houssem Aoudi: 30%, 20 votes

Central Africa Board Member:

Berry Numbi: 64%, 43 votes
Oscar Andres Nchaso: 21%, 14 votes
Hamid Khayar: 15%, 10 votes
Regional board member elections also showcase spirited participation, reflecting the community's dedication to diverse and representative leadership across Africa.
Read More: From Trash to Treasure: The Remarkable Quest to Turn Plastic into Fuel
This annual congregation converges innovators, entrepreneurs, investors, and stakeholders, united by a common purpose. Their goal is to harness the formidable strength of the AfriLabs community in driving Africa's digital economy, thereby catalyzing economic growth, job creation, and sustainable development across the continent.
Nine dedicated tracks within the AfriLabs Annual General Meeting explore various facets of Africa's thriving tech landscape. They delve into critical subjects such as startup ecosystems, fintech and financial inclusion, digital infrastructure, women in tech, AI and data science, green tech, policy and regulation, the future of work, and impact innovation.
As the annual tradition unfolds and anticipation fills the air, Africa's innovation community looks toward its newly elected leaders. They hold the key to steering the course of Africa's innovation ecosystem, propelling it to greater heights of success, inclusivity, and impact.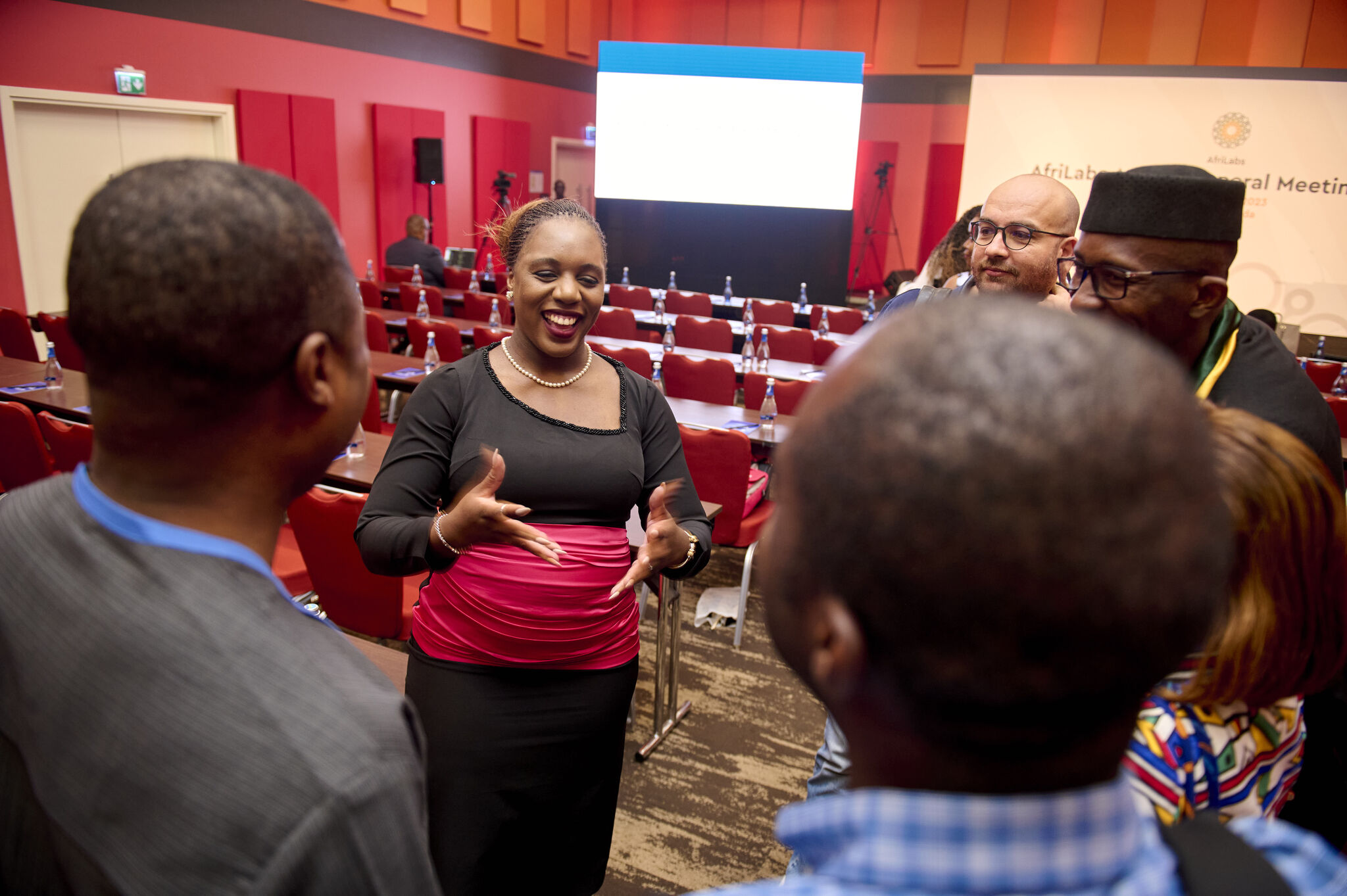 Read More: Benin: My Debut Afrilabs Annual Gathering Experience
In this pivotal moment, the question lingers: Who will lead Africa's innovation charge, and how will they shape our collective future? Stay tuned for updates on the transformative decisions and initiatives that will emanate from the AfriLabs Annual General Meeting 2023, as Africa's innovation community forges ahead in accelerating the continent's digital transformation.
Thank you all for your continuous support in keeping this project *alive, free and independent.* For your dreams matter, your stories matter! pic.twitter.com/BdDt25bFkb

— Africanian News (@africaniannews) October 5, 2023