The Government of Benin, on Saturday 30 July 2022, unveiled the statue of Bio Guera, with the monument located on the roundabout of the Cotonou Airport.
READ MORE: Benin: UN Partners Government to Promote Sustainable Agriculture
The statue is composed of an envelope made of cast iron (copper T3) with an average thickness of 5mm mounted on a steel structure; the whole resting on a reinforced concrete mass. The total height of the monument is 10m, of which 10m is the length, 3m the width and 7m the height of the statue itself. The total weight of the statue is 13 tons.
For visitors to the country, the monument is a symbol of the Beninese people's attachment to the defense of noble causes, their freedom and sovereignty. Many values are also highlighted: temerity, courage, dignity, and integrity.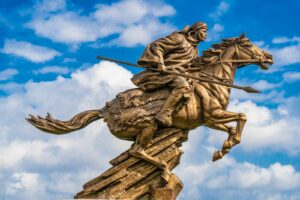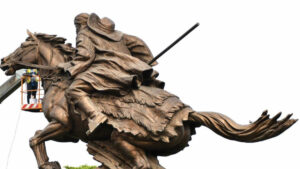 READ MORE: Beninese Government To Set Measures Against High Cost Of Living
Who is Bio Guera?
Prince Gbaasi N'Guera was born in 1856 to Sabi Yerima and Yon Gon. Bio Guera was a farmer and merchant who also practiced hunting. He was educated to ride a horse, to handle a bow and arrow, and was a resistance fighter and a 'rebel figure' alongside the Wasangari, Boowo, Peul and Baatonnu peoples of the former Barutem territory who fought against deprivation of freedom, taxation, conscription, forced labour and colonial oppression. He came to the aid of the people of the village of Gbéku against the exactions of the Wasangari of Buanri in the south, Gberudaba and Bouka in the east.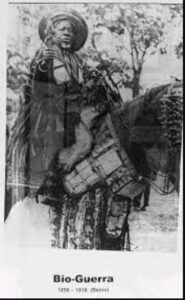 READ MORE: Equatorial Guinea: Dreams Hub Open Incubation and Accelerator Space
Bio Guera was living in Gbasi – north-west of Niki – when the Baatombu war of resistance to French penetration broke out. He actively participated in August 1897 in the war led by Saka Yerima (the first opportunity to test his courage) and several times defeated the colonial army on expeditions. This national hero organised the siege of Bembéréké and then, with his troops, transferred the war to Baura, north of Bembéréké.
After almost a year of fighting in Baura, the hunted warrior chief fell under the murderous bullets of the colonial invader on 17 December 1916. He was awarded the title of "national hero" in 1975.