By Olivier Noudjalbaye Dedingar, Expert-Consultant, Humanitarian and Freelance Journalist.
The African Development Bank's president believes that the Russia-Ukraine war will have ramifications for food security and energy supplies. A ripple effect that will leave adverse effects in Africa, far away from the centre of the conflict.
Akinwumi Adesina, the current AfDB president, spoke at a conference in South Africa. He cited that he was the Minister for Agriculture in Nigeria back in 2012 when the country had one of its worst cases of flooding, 30 out of its 36 states experience some level of flooding. Farmlands, villages, and key public infrastructures like roads, bridges, and power plants were all wiped away by the floods. He said that while the whole nation was scared about the possibility of a food crisis, he in particular was certain it could be averted.
READ MORE: Angola: APPO Launches African Energy Bank Initiative
"Everybody panicked that there was going to be a food crisis. I must have been the only person in the country who said we can avoid a food crisis," Adesina said.
As the country faced terrible food shortages, the minister undertook a strategy to enhance maize, wheat, and rice growth during the dry season. Growing such crops at that time of year was unusual in Nigeria, but it helped to enhance food supplies. To improve food production, the government offered free seeds and fertilisers to flood-affected farmers and subsidized inputs for non-affected farmers.
"By the time we finalized the action plan, rather than rising, food prices in Nigeria had plummeted by March." In October, we began planting. By March, we had lowered the cost of food."
READ MORE: Nigeria top priority under African Development Bank Africa Emergency Food Plan
It was feasible, according to Adesina, because "we knew the science, we knew technology, and we deployed the correct sensors at the right time."
Now, as president of the African Development Bank, the continent's largest multilateral lender, Adesina is attempting to prevent a larger-scale food disaster. Natural gas, wheat, and fertilizer costs have soared as the war between Russia and Ukraine enters its second month.
Russia and Ukraine together generate over a fifth of global wheat exports, and Africa is strongly reliant on them. According to the African Development Bank, wheat imports account for 90% of Africa's $4 billion in commerce with Russia and over half of the continent's $4.5 billion trade with Ukraine.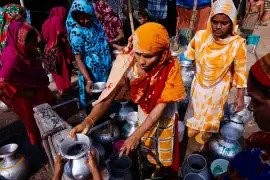 "One-third of the cereal supply of East Africa comes from those two countries, and Egypt is badly affected. So are Algeria and Morocco, Somalia and several other countries. So, if we don't manage this very quickly, it will destabilise the continent," Adesina said. He predicted that the conflict will have several significant economic consequences for Africa. It has already roiled financial markets, resulting in exorbitant interest rates. Commodity prices are rising, he added, using wheat as an example, which has "risen by 64 percent globally" since the 2008 global food crisis.
READ MORE: Equatorial Guinea: Winners Emerge from the TotalEnergies Startupper Challenge
Fertilizers, a critical component of the agricultural industry, have also been impacted, and the bank president understands that this might mean disaster.
"The price of urea has gone up by 300 percent. All of that is saying, that it's [the war] driving inflation in Africa, and it could — if not quickly well-managed — trigger a food crisis in Africa," Adesina said.
Adesina isn't just talking about the problem, he also has a plan for the solution. Adesina is working on a $1bn emergency food production plan for Africa to avoid food shortages and bring down inflation. The AfDB-led project will help support 20 million farmers with access to climate-resilient agricultural technologies to boost food production to feed 200 million Africans.
Under the plan, farmers will be able to produce 30 million metric tonnes of food, including wheat, rice, maize, and soya beans. The output is expected to be valued at $12bn.
The epidemic of COVID-19 pushed 26 million Africans into poverty. "With the impending food crisis and rising prices, we're going to see a lot more people – a couple of million more – slip into extreme poverty." And why is that? Because the cost of food accounts for around 65 percent of a poor family's household spending."
However, Adesina believes that if the emergency plan obtains enough international backing, this might be averted.
According to him, IMF Managing Director Kristalina Georgieva is "quite supportive" of the concept. Adesina intends to convene a conference of African finance and agricultural ministers "very soon" to examine the issue.
Adesina intends to provide $1 billion in two batches every year, in time for Africa's agricultural seasons, which run from May to July in the northern hemisphere and October to December in the southern. Because it is an emergency institution, the monies will be in the form of grants rather than loans.
The views and opinions expressed in this article are those of the author's and do not necessarily reflect those of Africanian News.