By Metohuey Adoglo 
Amidst the pulsating rhythm of Africa's digital transformation, a formidable adversary occasionally emerges – the turbulent tempest of military coups. However, within this seemingly chaotic dance of instability, there lies a profound lesson, one etched in the annals of unity and solidarity. In this article, let us embark on a journey through the heart of Africa's tech hubs, where resilience is forged in the crucible of adversity, illuminating the path to a steadfast tech ecosystem during trying times.
Read More: Key Factors Driving Digital Economy Growth in Africa
Nurturing Resilience Amid the Storm
Military coups, an unfortunate part of Africa's recent history, cast ripples across industries, including the vibrant tech sector. Amid the chaos, digital ventures face a series of formidable challenges:
Internet Shutdowns: Governments may shroud the digital realm in darkness, disrupting businesses that thrive on connectivity.
Investor Uncertainty: The erosion of investor confidence complicates securing the crucial funding needed for growth and innovation.
Talent Exodus: Skilled tech artisans seek stability beyond the storm's reach, posing a hindrance to venture development.
Regulatory Turmoil: The introduction of new regulations introduces a layer of complexity to everyday operations.
Supply Chain Disruptions: The intricate web of global supply chains unravels, causing delays and escalated costs.
Data Security Urgency: A heightened urgency surrounds data security, necessitating fortification through advanced cybersecurity.
Access to Capital: Amid uncertainty, securing loans or investments becomes an arduous task.
Infrastructure Strain: Diverted resources afflict service reliability, impacting vital functions such as power and internet
Read More: The Visionary Architects of Africa's Tech Ecosystems
A Lesson in Resilience – Sudan's Struggle and Hope
Sudan, the third largest country in Africa by land size with a youthful population of over 45 million, should have been a prosperous pro-technology market. However, consistent civil wars and militant uprisings have plagued the nation since its independence in 1956.
In 2020, the lifting of sanctions signaled a rebirth for Sudan's business ecosystem. Funds began to flow, and accelerators like 249Startups and Impact Hub were actively supporting startups. Business in Sudan was on the rise—until war erupted in April. As of May, the war has claimed the lives of about 1,800 civilians and injured over 5,000.
Yet, amid this turmoil, Sudan's tech ecosystem dares to hope. The challenges are immense, but the resilience of tech hubs and digital ventures reflects the indomitable spirit of innovation.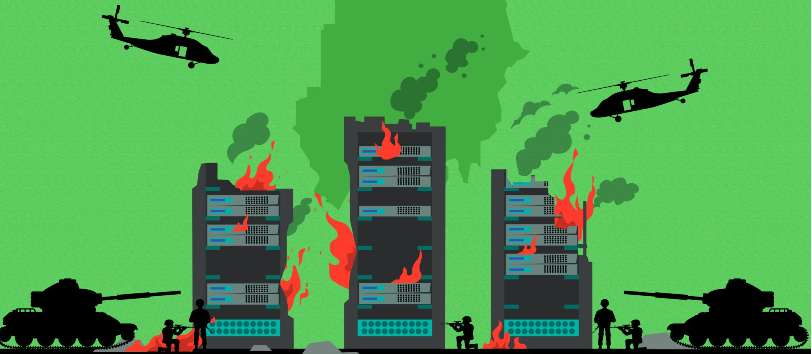 Tech Hubs: Fortresses of Unity
In the face of these formidable challenges, tech hubs stand as bastions of resilience. These hubs impart invaluable lessons, where unity and solidarity emerge as shields against the storm. They offer stability, collaborative synergy, policy advocacy, funding access, skill nurturing, and a vibrant community:
Steadfast Stability: With backup infrastructure in place, tech hubs enable digital ventures to remain operational during blackouts.
Collaboration Catalysts: Startups unite, combining their resources to weather adversity through collective problem-solving.
Advocates of Progress: Tech hubs champion favorable policies, ensuring the industry's growth even amidst political turbulence.
Financial Gateway: By forging connections with alternative funding sources, tech hubs amplify support for the tech ecosystem.
Skillcrafting Workshops: Training and mentorship provide startups with the tools to adapt and endure.
Community Builders: Tech hubs cultivate a sense of fraternity, forging a support system that shines brightest in times of hardship.
Read More: Tech Harmony in African Fields, Cultivating Agro Tech with Local Wisdom
The challenges confronting digital ventures during African military coups are undeniable, yet they are not insurmountable. Tech hubs serve as guiding stars, illuminating the path of resilience and unity. As we embark on this odyssey of discovery, ponder this: How can we fortify the bonds within our tech community to ensure unyielding innovation and sustainable development, even when the tempest rages at its fiercest? 
The opinion of the author don't necessarily reflect those of Africanian News.
Our Story So Far. Your Dreams Matter, Your Stories Matter #DreamsTalks #AfricantechSpace pic.twitter.com/seZElwurGq

— Africanian News (@africaniannews) July 3, 2023